ADGAP offers many opportunities for you to get involved in our work accelerating academic geriatrics. Browse options below to see which volunteer opportunities are right for you.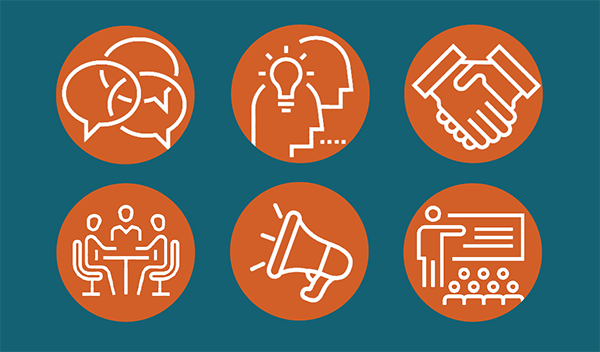 Join a Section or Special Interest Group
Sections represent groups from specific disciplines who come together to encourage networking. Special Interest Groups (SIGs) are grass-roots communities formed to meet annually at the American Geriatrics Society (AGS) Annual Scientific Meeting to discuss unique areas of interest.
See ADGAP-affiliated Sections and SIGs here
Apply to Serve on the AGS-ADGAP Education Committee
The American Geriatrics Society (AGS)-ADGAP Education Committee works to ensure that every older American receives high-quality, person-centered care through the promotion of geriatrics education for all trainees, students, and health professionals.
Learn more about committee service and apply here
Join Our Mentoring Program
ADGAP Members can participate in two different mentoring programs.
An in-person program that takes place at the AGS Annual Scientific Meeting, with mentor applications opening up in January each year.
A virtual mentor program available 24/7 via MyAGSOnline, the AGS-ADGAP digital member forum.
Nominate Someone for an AGS Award
The American Geriatrics Society (AGS) annually honors researchers, clinicians, educators, and emerging health professionals who have made outstanding contributions to research, care, and professional education benefitting us all as we age.
Learn more about specific awards and the nominations process here